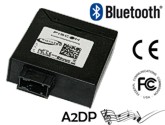 Compact housing


Plug & Play Adapter
FISCON Bluetooth Handsfree
More than a normal bluetooth handsfree, FISCON handsfree kits are fully integrated into the vehicle infotainment system. This means familiar and simple operation with the existing buttons in the vehicle, comprehensive display of information on the navigation system or FIS screen and no unnecessary external components.
The product line Basic shows the data on the FIS-Screen of the vehicle. In addition to that Plus and Pro products provides a fully integration into the infotainment system.
FISCON Bluetooth handsfree kits will be available soon for numerous vehicles from manufacturers not already shown. How you can use the functions in detail are shown on the information pages related to the specific infotainment system.